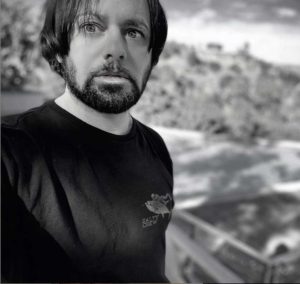 Born & raised on the Space Coast of Florida, Justin started out at a very young age shooting surf films for international brands such as Quiksilver, Billabong, & Rusty with iconic professional surfers such as the Hobgood brothers and Kelly Slater. After moving to Los Angeles, he began working at Academy Award-winning production companies A Band Apart and Anonymous Content where he was able to learn the directing process from the world's top directors. He grew his role into writing music video treatments for directors on music videos such as Beyonce "Single Ladies", Beyonce and Shakira "Beautiful Liar", Pink "Nobody Knows", etc. He went on to write Beyonce's live performances for the 2011 Grammy Awards and her appearance on the final Oprah Winfrey show. Justin also co-produced The Shooter Series with Richard Brown (True Detective) where he directed interviews with Jay Z, Mark Wahlberg, Outkast & F Gary Gray.
Justin was one of the original creators and directors of Maker Studios (acquired by Walt Disney Corp.) that pioneered the Multi-Channel Network YouTube centric companies of today. He conceptualized and directed one of Maker's first-ever YouTube talent-driven branded campaigns (Planet Hollywood Resort & Casino Las Vegas) creating the model on how brands advertise utilizing YouTube & influencers. He is one of the only directors to concept and direct a brand-sponsored video (Cosmopolitan Magazine & Nivea) to take number one on the Ad Age Viral Charts beating out top brands such as Nike, Pepsi, & Toyota. He has also directed music videos for major record labels and companies such as Interscope, Warner Bros, Capitol, Apple Music, & Sony; for artists Eva Simmons, Corey Taylor, Jason Derulo, A Fine Frenzy, Bret Michaels, The Midi Mafia, Miggs starring Lindsay Lohan, Mickey Avalon, Taproot, along with a fun little PSA for To Write Love On Her Arms with Joaquin Phoenix, Miley Cyrus, & Liv Tyler.
Justin's feature film debut "And Two If By Sea" the documentary story of identical twins CJ & Damien Hobgood narrated by comedian Daniel Tosh of Comedy Central's Tosh.0 picked up several wins on the 2019 summer film festival circuit and was then acquired by 1091 Distribution. It was released worldwide on December of 2019 and became the number 3 most popular documentary film worldwide on iTunes. It's available for streaming on Amazon Prime, Redbull TV, The Outdoor Channel, Apple TV, iTunes, Google Play, Xbox, Vimeo On Demand, Vudu, & Fandango On Demand.